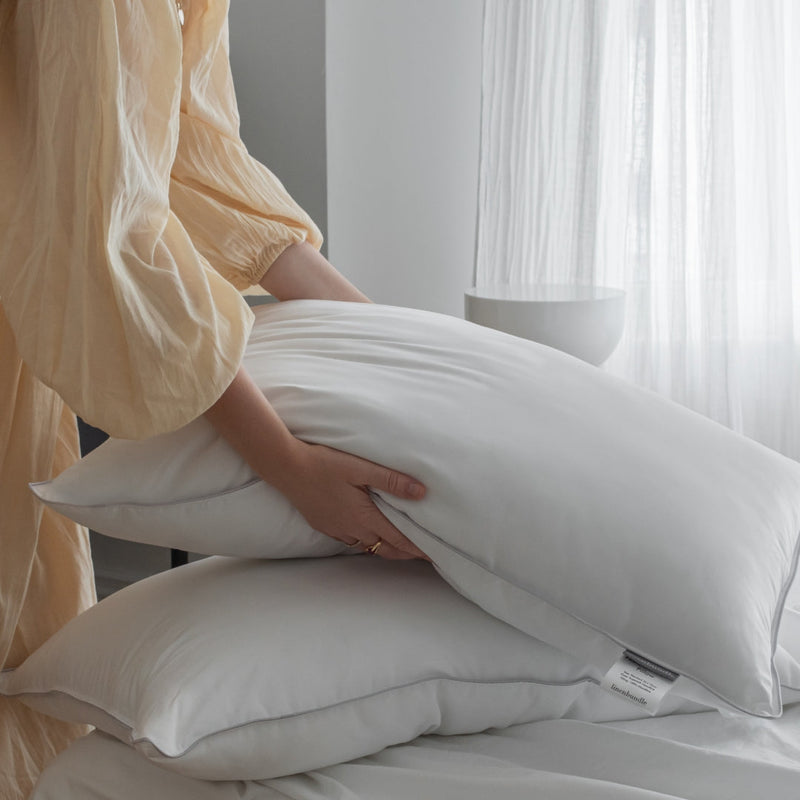 FREE pair of Snuggy Pillows (worth €85)

Estimated delivery by if you order now.

Fulfilled from our Europe warehouse.
Our pillows are stuffed with a hypoallergenic, microfiber fill that mimics the lightness & fluffiness of luxury down. Known for it's plushness & shape retention abilities, our 100% recycled fill is earth-friendly but doesn't compromise on comfort.
Finished with an ultra-soft and breathable cotton cover, for that 'hugging--a-cloud' feel. Sold in pairs.
100% cotton percale

cover
Micro-fibre fill - 100% BPA-free, recycled PET.

Cruelty-free & vegan.

Anti-allergy - naturally resistant to dust, mites & mold.

Machine Washable
Classic Silver/Grey Piping
Pillow Size
40 x 75cm
65 x 65cm
40 x 80cm
80 x 80cm
50 x 75cm
We recommend washing at 40c and if tumble drying to do so on low - See here for more information.
Unfortunately, due to hygiene reasons, we cannot accept returns on filled products such as duvets & pillows.
Size Guide
Pillow Size
40 x 75cm
65 x 65cm
40 x 80cm
80 x 80cm
50 x 75cm
Hot Sleeper

"Keep you cool in the night and feel like Hotel luxury."
Colleen K
Luxury Addict

"The most premium & soft sheets I have ever slept in.
The hand-feel is unbelievable."
Tiernan L
Eco Conscious

"Delighted to find really good quality bedding sourced ethically."
Marna G
Upgrader

"Without doubt the best sheets I have ever owned."
Federica E
Busy Mum

"Beautiful soft comfortable bedding and so easy to iron."
Linda M
Bedroom Beauty
Mention @linenbundle in your bedroom snaps and we'll feature our favs